Your Ultimate Packing List for Spooktacular Weekends
Anticipation is building as the Halloween Spooktacular Weekends at Jellystone Park™ Milton approach! If you're gearing up for this event, ensuring you have the right packing list is crucial to maximize your fun. We've crafted the ultimate packing list tailored to the event's offerings:
Your Essential Packing List for Halloween Spooktacular Weekends at Jellystone Park™ Milton
Costumes
For the Family: Remember, there are costume contests for all ages. So, whether it's spooky, funny, or downright creative, pack those outfits!
For Pets: Don't leave your furry friends out of the fun. Bring along their Halloween best.
Decorative Gear for Your Stay
Cabin or Campsite: Think Halloween-themed decor like inflatable ghosts, spooky lanterns, and fake cobwebs to make your spot the talk of the park.
Golf Cart and Bicycle: Decorative items like lights, streamers, and other festive touches to stand out in the contests are must-haves on your packing list.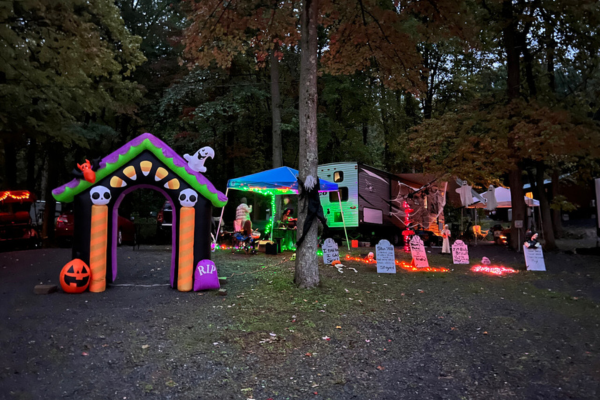 Trick-or-Treating Essentials
Sturdy Treat Bags or Buckets: You'll need something to collect all those sweet treats.
Safety and Visibility
Reflective Tape or Stickers: Enhance visibility for costumes and bikes during the evening events.
Warm Clothing: Those October nights can get chilly, so pack layers to stay cozy.
Pet ID Tags: In case your furry friend decides to wander off, an identification tag with your cabin or campsite number will help them find their way back.
Flashlights and Glow Sticks: Essential for after dark, ensuring you can see and be seen.
Capture the Moments
Take snapshots: With your camera or smartphone document all the fun and memorable moments.
Pack Your Halloween Spirit
Jellystone Park™ Milton's Halloween Spooktacular Weekends promise a blend of traditional camping joys and unique Halloween festivities. From the Magic Pumpkin Patch, Haunted Trail, Arts & Crafts, Games, Pumpkin Painting, to Trick-or-Treating and more, there's something for everyone. 
So, get started on that packing list and get ready for a memorable Halloween adventure. And if you haven't booked yet, now's the time! Dive into the festivities and make this Halloween season unforgettable.
Unpack the Fun!