Cool Camping Hacks for Your Next Jellystone Park™ Adventure
Who's ready for some fun? Camping at Jellystone Park™ at Milton is always a blast, and we've got some super cool camping hacks to make your stay even more awesome. Whether you're in a tent, an RV, or one of our cozy cabins, these tips will have you camping like a pro in no time!
Nifty Camping Hacks
Hack 1: Light Up the Night with a DIY Lantern
Who needs a fancy lantern when you can make your own? Just strap a headlamp to a gallon jug of water, with the light facing into the jug, and voila! The water diffuses the light, creating a soft, glowing light that's perfect for late-night card games or sharing spooky stories. It's a bright idea for any campsite!
Hack 2: Turn Your Tent into a Cozy Haven
Sleeping under the stars is great, but a little extra comfort never hurts. Pack some foam floor tiles to put under your sleeping bag and transform your tent into a comfy home-away-from-home. Sweet dreams, campers!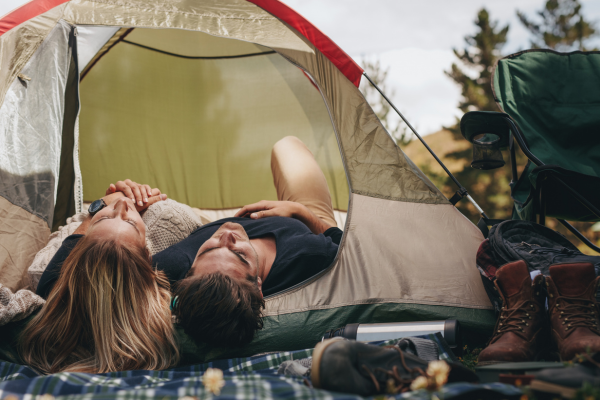 Hack 3: Dry Off in a Flash with a Microfiber Towel
After a splash-tastic day at the pool and splash pad or a quick shower, a microfiber towel will get you dry in no time. They're super absorbent, quick-drying, and lightweight – perfect for any camping adventure!
Hack 4: Keep Your Shower Essentials Handy with a Plastic Caddy
Make your trips to the shower a breeze with a plastic caddy. It's a simple way to keep your toiletries organized and easy to carry. This camping hack is like having your own personal bathroom cabinet in the great outdoors!
Hack 5: Keep Your Essentials Close with a Lanyard
Never lose your flashlight or whistle again! Attach your essentials to a lanyard and wear it around your neck or hang it up in your tent. It's a handy hack that keeps your important items close at all times.
So there you have it, folks! With these cool camping hacks, your next stay at Jellystone Park™ at Milton will be a total breeze. Remember, camping is all about having fun and making the most of your experience. So pack your bags, bring your sense of adventure, and get ready to rock your camping trip!
Start Your Camping Adventure Today