Family Camping at Jellystone Park™ at Milton
When it comes to camping, every family has their style. Whether you're eager to disconnect and sleep under the stars or prefer a more comfortable stay, Jellystone Park™ at Milton caters to every kind of camper. Discover a variety of family camping accommodations that promise an unforgettable outdoor adventure for all ages.
Family Camping Accommodations at Jellystone Park™ at Milton
Cozy Cabin Life
In the heart of nature, our cabins offer the comforts of home. Ranging from one-room rustic cabins to Deluxe Cabins for up to 10, we have options for small and large families alike. Most cabins are equipped with full kitchens, bathrooms with showers, and even cable TV for your downtime. Some feature screened-in front porches or lakefront views. 
And yes, we haven't forgotten about your furry family members — pets are welcome in select cabins. No matter which you choose, comfort and convenience come standard​.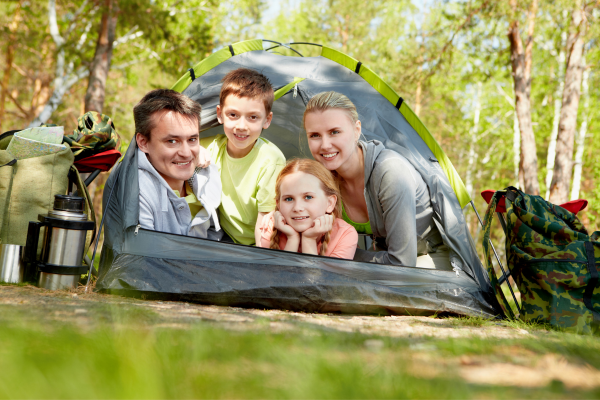 A Step Back in Time: Covered Wagons
For a truly unique camping experience, why not step back in time? Our Covered Wagons offer a taste of 19th-century pioneer life but with all the conveniences of the 21st century. Each wagon features a king-size bed, a set of twin bunk beds, and a private bathroom with a shower, all under a charming, wagon-style roof. Experience the old frontier without sacrificing comfort​​.
RV Life, the Open Road
For those who take their home on the open road, Jellystone Park™ at Milton offers a variety of RV sites. Choose from sites with water, electric, and cable hookups, or opt for full hookup sites that also include sewer services. Our RV sites are the perfect blend of home comforts and close-to-nature living, providing a memorable family camping experience​.
Traditional Tent Camping
For those who love to keep it traditional, our tent campsites are just the ticket. Choose between poolside tent sites with water and electric hookups or primitive tent sites for that authentic back-to-nature feel. Please note that pets are not allowed on these sites. Experience the joy of traditional camping with the family, under the stars, and around a warming campfire​.
Embrace Your Unique Style at Jellystone Park™ at Milton
No matter your camping style — whether you're a cabin dweller, a pioneer at heart, an RV road tripper, or a traditional tent camper — Jellystone Park™ at Milton offers a family camping accommodation to make your outdoor experience truly special. Choose your adventure and create unforgettable family memories with us.
Reserve Your Ideal Camping Experience