10 Must-Do Family Activities at Jellystone Park™ at Milton
Jellystone Park™ at Milton is the perfect destination for families looking for a fun-filled vacation. With a variety of family activities and amenities available, there's never a dull moment during your stay. From nature trails and fishing ponds to a giant splash pad and recreation pavilion, there's something for everyone.
10 Exciting Family Activities at Jellystone Park™ at Milton
1. Take a Dip in the Swimming Pool
Slather on the sunscreen and get ready to catch some rays!
2. Ride the Wet-n-Wild Hey Hey Ride
Enjoy a wet and wild wagon ride through the park while participating in a friendly water battle with fellow campers.
3. Play at the Splash Pad
Perfect for younger children, the interactive splash pad area features water sprays, slides, and other fun water features.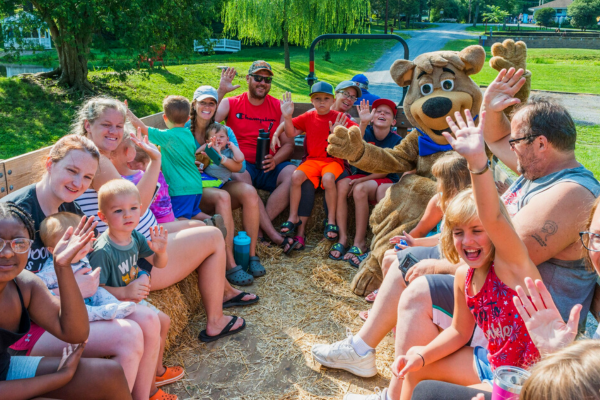 4. Hike the Nature Trails
Take a leisurely stroll on one of the nature trails and explore the beauty of the surrounding area.
5. Go Fishing
Grab your gear and enjoy fishing in the catch-and-release ponds. See if you can catch a big one!
6. Play at One or All Three Playgrounds
Kids can enjoy hours of fun exploring and playing at the park's three playgrounds, featuring slides, climbing structures, and more.
7. Jump! Jump! Jump on the Giant Jumping Pillow!
Have a blast bouncing around on the park's giant jumping pad, a favorite activity for kids and families alike.
8. Join the Fun at Foam Parties
Experience the excitement of foam parties and get ready to dance, slip, slide, and play away in the bubbles.
9. Attend a Themed Celebration
Be a part of the family activities and festivities during one of the many theme weekends (or theme weeks) throughout the season. From Yogi Bear™'s Birthday to Halloween, there's always something special happening at Jellystone Park™ at Milton.
10. Say Hi to Yogi Bear™
No visit to Jellystone Park™ at Milton is complete without meeting Yogi Bear™! Choose from many options, including a stop at your birthday party or a good morning or good night greeting.
Jellystone Park™ at Milton offers a wide range of family activities and amenities that are sure to please everyone. After a fun-filled day, you can retire to your cozy cabin, tent site, or RV site for a good night's sleep and start all over again the next day.
Experience All the Family-Friendly Fun at Jellystone Park™ at Milton